application
Name: e(liz)abeth ann-marie.
Age: 7teen.
Birthday: 12.30
Race: all american white girl. ;/
State: sadly, tennessee. soon to be texas.

you're opinion on...explain your reasonings.
abortion: i believe in pro-choice. it's the woman's choice. and the male should have say in it also. but why bring a child into this world that wouldn't or couldn't be cared for? sure, there's adoption, but most adopted children aren't that happy, who wants to know that their real mother didn't want them?
self-destruction: i use to do it, so it's all up to the person.
drugs: i do, do them. and this again, is all up to the person, just so long as they're not hurting anyone else in the meantime.
drinking: once again, it's up to the person. but drinking and driving; hell no. that's when you're putting people i love at risk.
the 80's: didn't dig the hair style or clothing trend back then too much, but the music was the shit. no denying. plus, i was made in the 80s.
parents: i love my mom &dad. my mom's my best friend, now my dad on the other hand.. that's a long long, different story.
gay marriage: ckjlhfnt. this is too touchy of a subject for me. i have plenty of gay friends and i want them ALL to be happy with the person of their choice. you can't help who you fall in love with and the government or anyone else for that matter shouldn't have a say in whether or not you can marry them.
sex before marriage: i also do this. and it's completely, hopefully, up to the person to make this decision. but, if you're "responsible" enough to spread your legs, you've got to be responsible enough to deal with the out come.
briteny spears: she's got a body to die for. and i like her newer stuff better than the old, but she's not my cup of tea.
christina aguiler: ditto about britney. i just don't feel like typing the same thing over and over. sorry.
jessica simpson: and ditto for the same reason.
avril lavinge: onccce again, ditto. sorry about all these ditto's.

choose...
coke or pepsi: coke.
day or night: night.
summer or winter: summer.
shorts or pants: pants.
god or satan: .. god.
single or taken: i'm single, but i prefer taken.
boys or girls: boys for a relationship and their bodies, girls.. just for their bodies, they've got too many emotional issues for me to have a relationship, i've got plenty of my own to deal with.
lights on or lights off: dim.

favourites...
movies: trainspotting &spun. boogienights &stigmata. house of 1000 corpses ( yes, bug off ) &office space.
bands: dmnsdnttews. the distillers &lords of acid. mindless self indulgence &blondie. queens of the stone age &rob zombie. bif naked &alanis morisette. the cranberries &outkast.
books: pure by rebecca ray &smack by melvin burgess. life-size by jenefer shute &a clockwork orange by anthony burgess ( the movie's pathetic compared to the book ).
songs: i've never had a favorite song, so i won't be able to answer this one.
parent: mom, like i said before, she's my best friend.

now you...
what's your favourite thing about yourself: my attitude &outlook on life. the way i hang onto my childish fears &still talk to myself.
what's your least favourite thing about yourself: ha, the same as above. all four of those have their exact opposite negative side. ;/

MAKE ME LAUGH!


yeah, i guess this would only be funny if you were there when it was taken. but, i don't have too many funny pictures, my computer crashed a month or so ago.

BE BEAUTIFUL!


sorry about the size of this one, my friend didn't resize and my editer won't support it.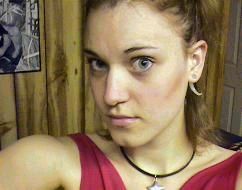 ♥ liz.